listen, share, connect.
Our Coffee Nights are a safe space where members of the LGBTQ2 community, their friends, family or allies can come together. This is a place to seek support if you have questions or concerns about sexual orientation or gender identity and expression, or a place you can make new friends or connect with old ones.
We offer two versions of our Coffee Nights: Support Meetings and Let's Chat.
Our COVID-19 Response – Meetings on ZOOM, Events on YouTube. (Updated July 2022)
We will continue to offer our Coffee Night Support Meeting Online via ZOOM until further notice.
We will announce the return of our in person meetings when the time is right. For now, we invite you to join us online from the location of your choice.
Coffee Night Support Meetings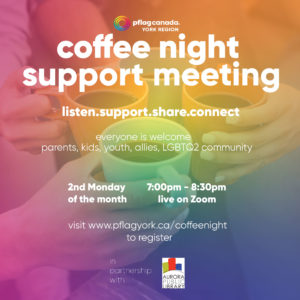 In Partnership with Aurora Public Library
Second Monday of each month (with the exception of Public Holidays).
With our Coffee Night Support Meetings, LGBTQ2 folxs, parents, family, friends and allies often share challenges they are currently facing. Whether you're a LGBTQ2 person who is "coming out" to your family and friends, or a parent who has just learned that your child is gay or trans, Pflag is here for you. No matter where you are on your journey, we can help.
At these meetings you can share as much or a little as you like, but know that you are entering a supportive, confidential and anonymous peer to peer support space with others who have faced similar challenges.
Coffee Night Support Meeting – Aurora
15145 Yonge Street – Magna Room
Starts at 7:15PM
Second Monday of every month
In Partnership with: Aurora Public Library
(in-person meetings are suspended until further notice)
Coffee Night Chats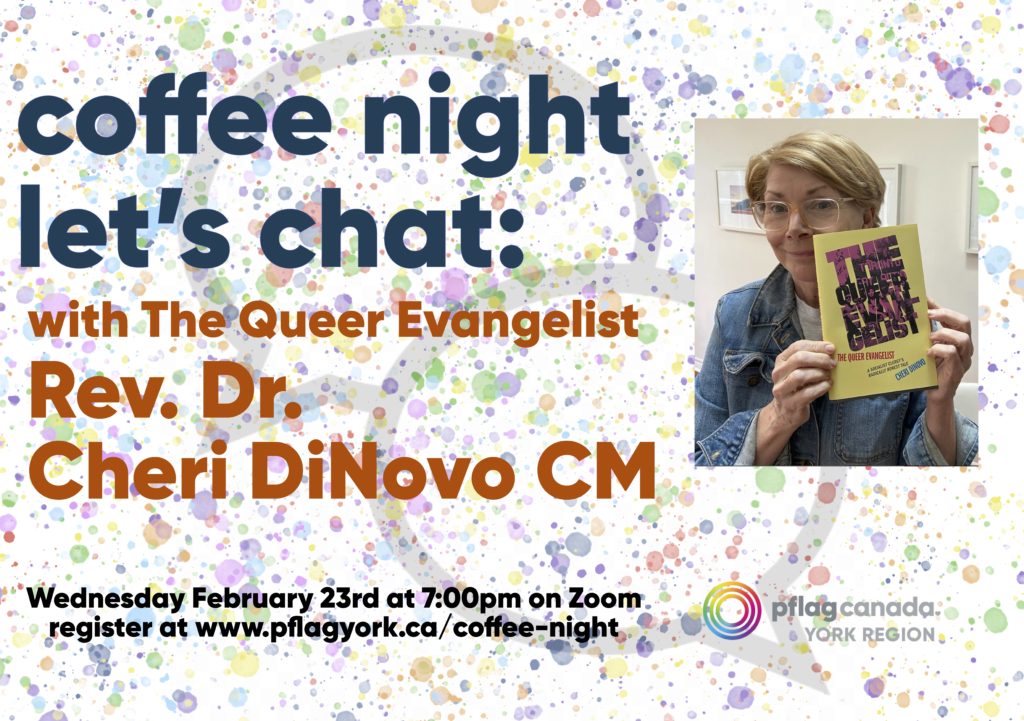 Our Coffee Night Let's Chat Series features presentations and interviews from the community's movers and shakers.
These events are held on a ZOOM Webinar. ZOOM Webinars allow participants to engage with speakers through a chat and Q&A section while allowing us to record the event for repeat views without capturing your personal information like your name and image.
We are currently taking a pause from Season 2 and will return with new content in the coming months!
Check out our previous Coffee Night Chat events:
Anonymous Support Line & Support Email
We know in person and online meetings are not for everyone. Thats why we have our support phone line and email available for anyone in need. With your support line you can leave your name and number in our voicemail inbox. Additionally, we can correspond over email at support@pflagyork.ca.
Whichever method you choose, our volunteers will follow-up with you within 48 hours with our response
Anonymnous Phone Line: 1-866-YR-PFLAG (977-3524)
Support Email: support@pflagyork.ca